[Home] [Download] [Online Manual] [Online Registrierung] [Screenshots] [C64 Documentation] [C64 Links]
---

The History of the Power64 Logo
Once apon a time I designed a Logo for Power64. Many people considered it ugly and, with great artistic skill, created new logos and sent them to me. Enjoy the collection of the contributions.
The original Logo used in Power64 version 1.1:









A great Image (not exaktly a logo) by Maurizio Memoli: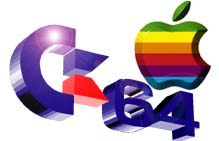 Zurück zur Power64 Homepage.
---